ABOUT US

Welcome to TOBIE ORAL PET CARE where canine dental health is our top priority. We're dog lovers and dental care enthusiasts, committed to making a difference in the lives of dogs and their owners.
With extensive Development and Research of all our products. All Tobie Oral Pet Care products started in the bare hands of Dr. Rafael, who always ensures that the products are premium, developed to the highest standards, and preferably made with products and ingredients made in the USA.
We provide top-quality pet products that promote oral hygiene and overall well-being for your furry companions. With our carefully curated selection of products, you can ensure that your pets maintain a dazzling smile and a vibrant life.
Our purpose: At the heart of Tobie Oral Pet Care is our desire for each dog owner to understand the importance of maintaining their dog's oral health, and to enhance the well-being of dogs by promoting optimal dental health. We believe that a healthy smile leads to a happier, longer life for our four-legged friends.

Our mission is to overflow into other people's lives and impact them positively, so part of the sales of our goodies we donate to dog shelters in Florida and an orphanage in Haiti and Brazil.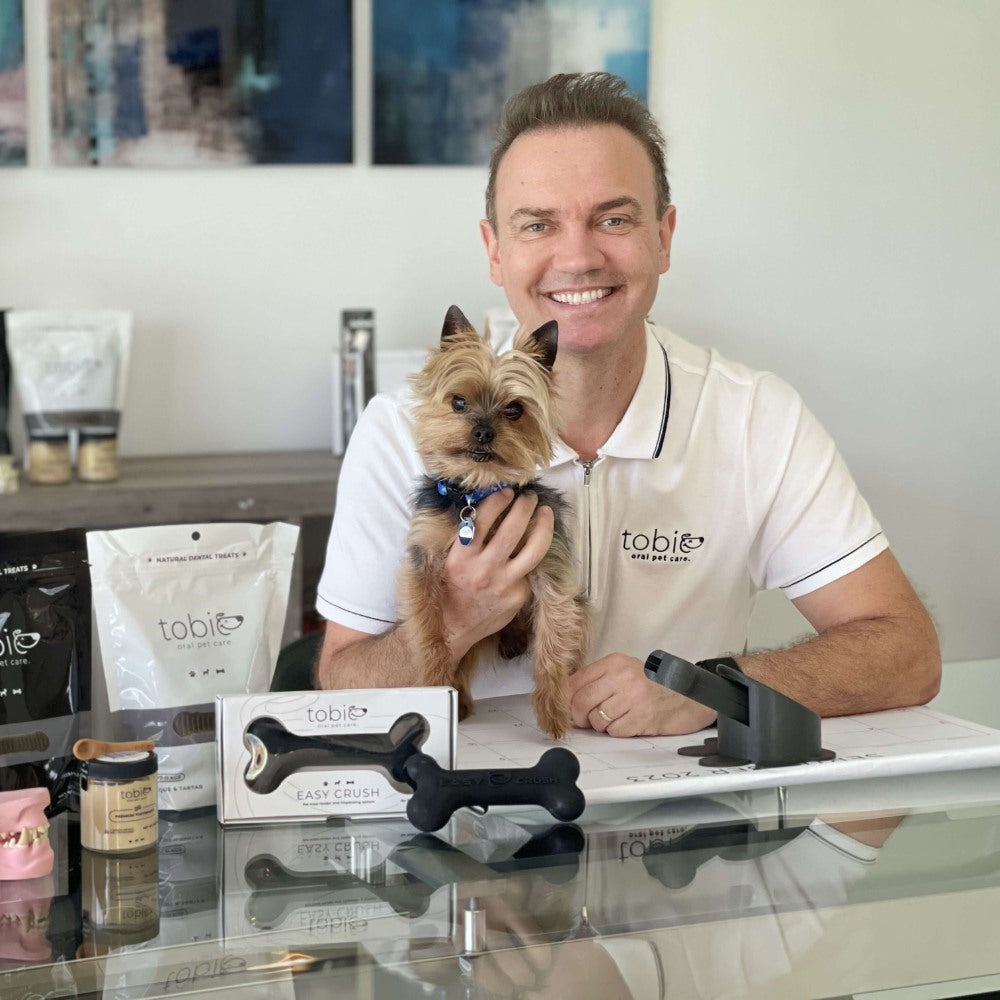 MEET THE Founder 
My name is Rafael Villanova Mattos Shipp. My background in dentistry started in my childhood with my daily routine of seeing my father Dr. Francisco Mattos Jr. (In Memorium ) at his dental practice. Following my father's steps, I graduated from Dental School in 2005 and worked in this field until 2016 in Brazil and moved to the US and continued working with human dentistry until 2018.
In 2017 I had a huge change of mind about proceeding in getting my dental license in the USA. Just after 3 months after my wedding I was diagnosed with stage 2 Prostate Cancer, In 2018 after the surgery is when Tobie Oral Pet Care started to be created and I decided to take the first step toward my passion for a different type of dentistry:  Dog's Oral Health Care. 
Some people today still keep asking me why I gave up on my dentistry passion. Well, I never gave up I just changed the patients. Today I work helping take care of a dog's oral health and helping each dog owner be educated and aware of the benefits of their fur baby's oral health. 
I'm still passionate more than ever about dentistry and dogs! Tobie Oral Pet Care was founded by my wife (Elma Shipp) and I with the intent of helping dog owners expand their fur babies' lives and health through proper care of their oral health. 
We are proud to have a Family Owned and Managed Business.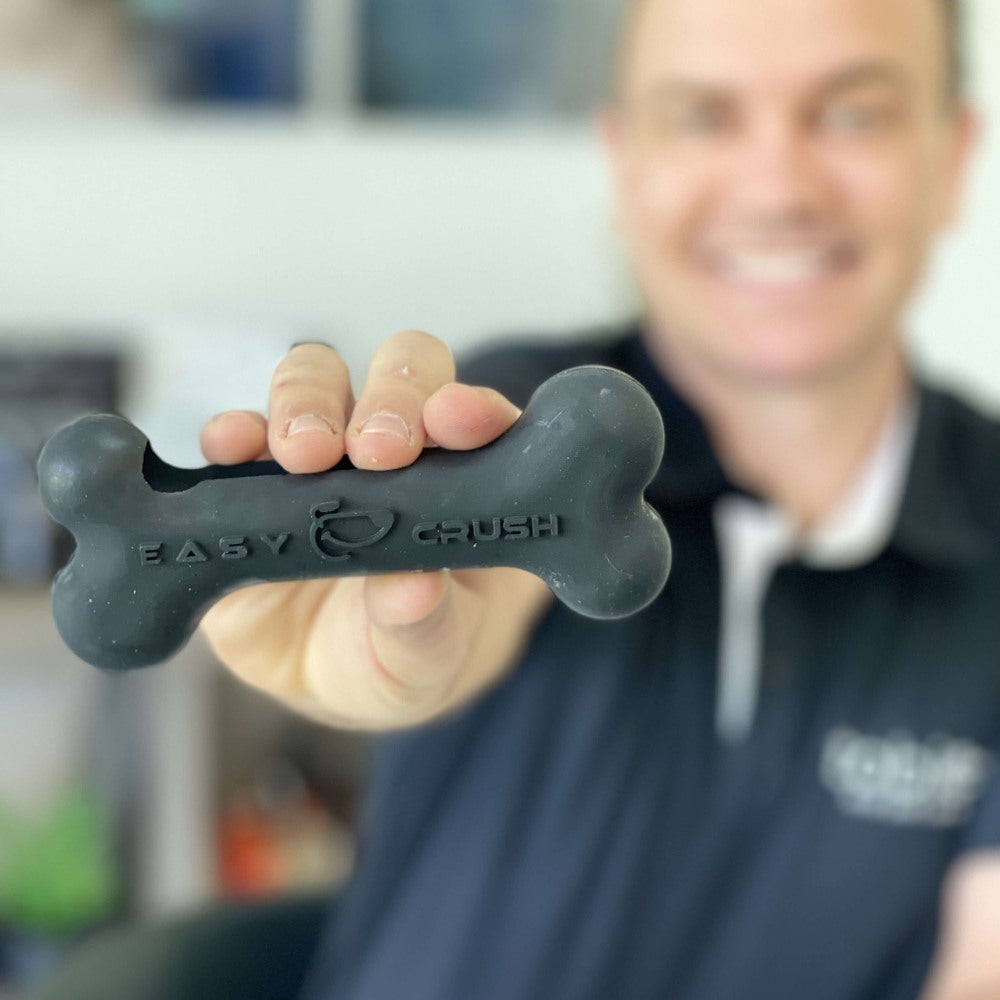 UNIQUE & HEALTHY PET PRODUCTS.
Our products are superior because we use the best technology and the best materials and we are solving an area that the traditional system could not.  We started the research in 2018 and I realized the need to create a premium line of products.
Our team of experts understands the unique dental needs of dogs. Our products are meticulously crafted and tested to meet the highest standards of safety and effectiveness.
Softer feeding is increasingly common and with the development of periodontal diseases, gingivitis, and bad breath this factor will increase and that's why we created Tobie.  We know how difficult it is for owners to brush their dogs' teeth, so we've created several options to help clean dogs' teeth.
WE ARE AN AWESOME COMPAWNY.
Premium Quality: We source our products from trusted manufacturers who prioritize quality and safety. Your pet deserves the best, and we provide products that meet the highest standards.Most of our products are Made in the US.

● Diverse Range: From toothbrushes and toothpaste to dental treats and Easy Crush, our range of products ensures that you'll and the perfect solution for your pet's unique needs.

● Expert Guidance: Our team of pet care experts is here to guide you through selecting the right products and establishing a successful oral care routine. We understand that every pet is different, and we're here to help.

● Pet-Friendly Formulas: Our products are formulated to be pet-friendly and natural, considering their taste preferences and sensitivities. This means you can maintain your pet's oral health without any fuss.

● Positive Experiences: We believe that pet oral care should be a positive experience for both you and your pet. Our products are designed to be effective yet enjoyable, making your dog's oral care routine a bonding experience for you and your furry friend.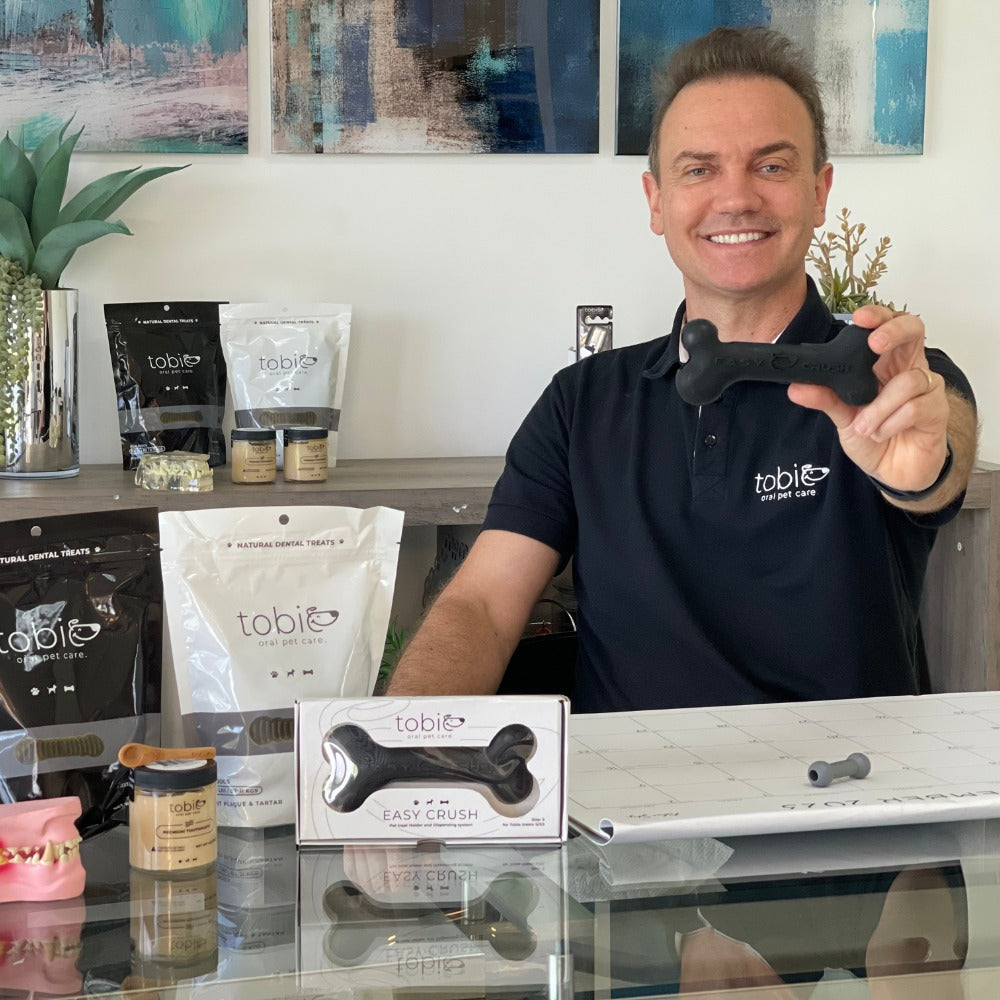 OUR PRODUCTS

● Toothbrush: To assist in cleaning the back teeth, our toothbrush has a unique angle. We use 2340 soft bristles and 4160 extra soft bristles that are particularly gentle and won't irritate your pet's gums.

● Toothpaste: We were able to create a premium natural product with the greatest ingredients with the assistance of some universities. We developed a Yavor combination that dogs adore, it is formulated and manufactured here in the US.

● Easy Crush: Dogs and their owners can connect thanks to pet treat dispensers. The Easy
Crush helps clean teeth while preventing stomach overYow and choking. Made in the USA from entirely non-toxic natural rubber. US patent pending. The greatest reward brands (Greenies, Whinzees, and Pedigree) can at in Easy Crush.
Join the Tobie Family Today
When you choose Tobie Oral Pet Care, you're choosing a brand that cares about your pet's well-being as much as you do. With our range of high-quality oral care products, you can ensure that your pet enjoys a happy, healthy life with a radiant smile.
Join the Tobie family today and embark on a journey towards exceptional oral care for your beloved pets.